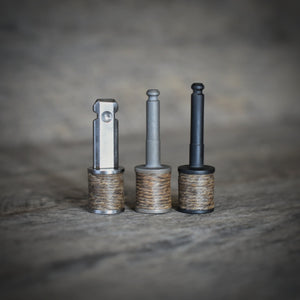 We are releasing a limited run of our waxed thread handles. This handle features waxed cord wrapped around a solid titanium handle, giving this handle a classic look and feel you can't find anywhere else. This handle will be made to order only and will require a 2-4 week lead time. These will not be a regularly stocked item. 

12 Ga models - Fits most Benelli models including: SBE, SBEII, SBEIII, M2, M3, Cordoba, Montefeltro, Ethos, SuperSport, Legacy and Franchi, Variomax, Intensity, Affinity, and I-12
**Vinci/Super Vinci option now available - Select accordingly**
20 and 28 Ga models - Fits most Benelli models, including: SBE3, M2, Montefeltro, Ethos, Legacy, Ultralight, Supersport, Sport 2, and Cordoba
Custom cerakote colors may be available for additional cost, please reach out if you have any questions. 
This handle may require some annual maintenance (waxing) depending on the amount of use.