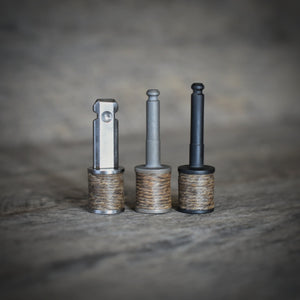 We are releasing a limited run of our waxed thread handles. This handle features waxed cord wrapped around a solid titanium handle, giving this handle a classic look and feel you can't find anywhere else. This handle will be made to order only and will require a 2-4 week lead time. These will not be a regularly stocked item. 

*Remington Handles are not interchangeable, please select you model accordingly*
Handles available for: 1100/11-87, & **Versamax (See Below)
** Versamax Owners, if you have a waterfowl/special edition that came with an extended factory bolt handle (round pin design), please contact me via email before ordering**
This handle may require some annual maintenance (waxing) depending on the amount of use.